Day 1 - Set Up Your Website
Let's Go!
You've made a great decision to join my 5 day set up your website challenge...
I know that working out what to say on your website is hard.
If writing is something that feels unnatural to you, it can be extremely frustrating.
But I have put together some of the most important pieces of information that you should have on your website and simplified it...
so you will have a website finished
IN 5 DAYS! Yay!
2. Select your preferred template
Classy Cakes or Wedding Cakes
3. Choose Your Domain Name
(The tech term for your web address)
One of the first things you will be asked when signing up for your website, is
"What is your business name?" and "What URL would you like?"
Note: BiziChix BiziFree packages will allocate you a web address such as: www.yourcakeshop.bizichix.com.
But if you upgrade to the BiziBasic package, you will be able to use your own URL or domain name such as:
www.yourcakeshop.com.  This is so much more professional and shows you are serious!
Domain names cannot include uppercase letters or symbols so just keep to lowercase letters, numbers and no spaces.
5. Create your user name and password
You user name will be what you login with whenever you want to make changes to your website in the future.
It might be your name or your email address, or your business name (without spaces). Just try to make it something you will remember!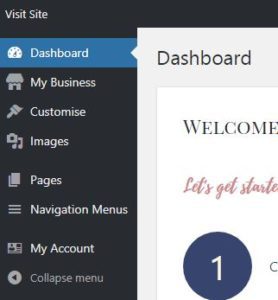 7. Click on "My Business"
8. Enter your business details
They will flow through to your website footer.
Make sure you click on "Save Changes"
Congratulations!
You have completed Day 1 of the Challenge! The Set Up.
Pop over to our Facebook group if you have any questions or want to let us know how you went with your work today...
See you tomorrow to work on your content.
Tell your friends about our FREE challenge!